The Healy
Isn't it a great feeling to feel strong, active and healthy? A healthy body and mind means quality of life, after all. Achieve your own personal wellness goals with help from the Healy.
Healy is meant to help you to increase your vitality to improve the flow of your energy reserves and to activate your energy reservoirs.
The device is a microcurrent medical device that has been cleared by the U.S. Food and Drug Administration for local relief of acute, chronic, and arthritis pain and muscle soreness due to overexertion.
Healy also has non-medical applications that use Individualized Microcurrent Frequencies (IMF) to harmonize your Bioenergetic Field.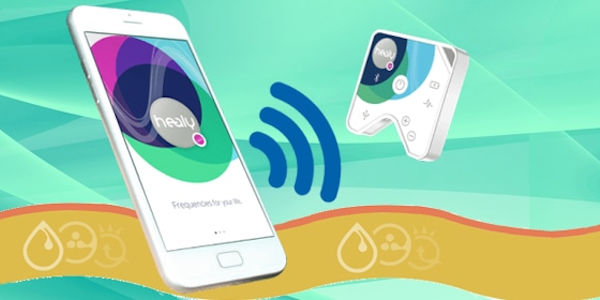 Healy Connects With Your Smart Devices!
Revolutionary Design Helps Improves Systems Through Out Your Body
The revolutionary device is designed to support you in stressful situations during the day, help you recover more easily and find peace in the evening. The device is quick and easy to setup. It connects to your smartphone using the Healy app. From there you can control the device.
The device is great for improving a number of systems through out your body. Many users find that they have increased fitness, sleep, mental balance and an increased ability to learn, in addition to other benefits.
Always use your Healy in accordance with its Instructions for Use. Although Healy is small, light and inexpensive, it has a lot to offer: it can harmonize your Bioenergetic Field to help balance your mind and body and improve your quality of life, and it can also give you an analysis of your energetic state and help you find ways to improve it. The device provides users with an excellent tool in their toolbox to achieve wellness.
Healthy cells make healthy organs. Healthy organs make healthy people! That's why practitioners at The Healing Body regularly use the Healy to harmonize their Bioenergetic Field!